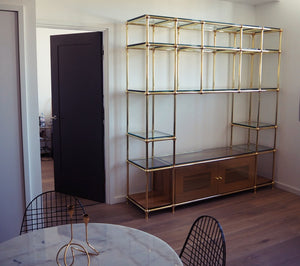 Brass, Glass & Oak centre piece for an apartment in central London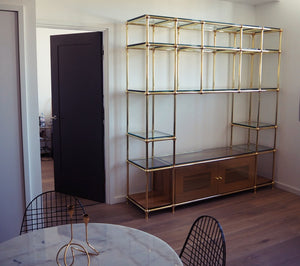 "Approached with a sketch and a solid vibe, the customer enabled me to turn this completely custom & unique commission around in a fairly short time period with a fantastic result"
There were only two real constraints on this design - transportation and installation access. 
Running with a rich Art-Deco theme I wanted to emphasise and condense smooth lines, geometric shapes, streamlined forms and striking colours. Doing such an inspiring era justice while maintaining the purpose of the installation, which is a highly practical storage and display solution. 
Where possible, the solid brass tubing was run in continuous lengths through the fittings to increase strength, straightness and stability. I made this priority one over the fact that this piece would need to be built in sections, disassembled, transported, and re-installed on site in a matter of hours. 
Ultimately if the piece isn't artistically designed & ergonomically engineered, prepared for the installation, and crafted perfectly, then it just wouldn't look as amazing as it does!
These thick brass sheets have been machined to size. A process undertaken by the manufacturer which doesn't create bends or sharp edges. 
This is not just important for safety, this is a high grade material which deserves to look as high class when cut and installed on solid American White Oak. 
This feature actually has three purposes - 
1) Looks & Style in keeping with the theme (obviously)
2) Creates a closed door whilst reducing door weight
3) Creates ventilation for the electronics that will be placed inside (DVD, VCR, etc) 
The shelves were created with 10mm thick toughened glass. A thick glass allows more of that gorgeous green colour around the edges to catch the light and be refracted across the frame, cabinet and surrounding walls. Adding more colour and making for some very tough shelves. 
They were sat on a tacky and cushioning foam intended for glass. 
The fittings of this piece are really what break the square geometry just enough to create an eye catching balance. Grub screws were removed and replaced with a stronger fitting which ran through the tubing. 
You may notice that the feet are not screwed down into the floor. This is primarily because the apartment had underfloor heating throughout. 
As there's very little horizontal force to the base and only really compressive strength required, missing these particular screws was not a concern. 
The frame was subtly fixed to the back wall with four brackets. You may spot them, but you'll need a keen eye!
This horizontal section demonstrates the importance of run-through tubing for strength, stability & straightness. A thought process which can only come first. 
Rendered images and engineering drawings were provided for the client throughout the process. This client was such a delight to work with and was thrilled with her Plank & Pipe experience and of course the end result. 
If you'd like a one of a kind and beautifully unique and personal piece created by an artist, a designer and an engineer, please email contact@plankandpipe.co.uk 
Thank you to the client for coming to us with this project and allowing us to make her sketch a permanent feature of her home. We wish you all the best!